Partnership Property Management stepped into the New Year with our 1st Annual Step Challenge.  The challenge was held from January 8th to February 7th and included eight teams with five members each competing for the top prize!! After 30 days and more than 5,000 miles walked, The Overachievers took home the first-place trophy with team member Ed Dallape crowned "top stepper"!
Eliza Haynes, who organized the challenge, and Mike Holoman were sure to remind us that we're all winners when we remain active, and each participant received a prize to recognize their dedication to the challenge.  Prizes ranged from highly coveted $25 Target gift cards for 1st place to more humorous prizes like jelly window decals for 8th place!
What a great way to put our best foot forward and set some heathy intention for 2023!
1st Place – The Overachievers
(left to right) Joyce Gaddy, Gaby Bradley, Brittany Padgett, Ed Dallape, Frankie James
2nd Place – Sole Sisters
(left to right) Eliza Haynes, Susan Roberson, Sara Johnson, missing-Rachel Dingus, Alicia Tallent
3rd Place – Lost in Pace
(left to right) Mindy Trosper, Kelly Wilson, Emily Mellor, Diane Osborne, Mark Horton
4th Place- Holy Walkamolies
(left to right) Cassie Harrington, Brittany Brooks, Diamond Gwynn, David Tallent, Sandy Lucas
5th Place – Hunt or be Hunted
(left to right) Rob Vocci, Laura Kilmartin, Amber Hunt, Ginger Morris, Lori Clinard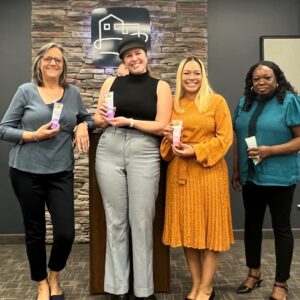 6th Place – Step Sisters
(left to right) Lorraine Sizemore, Sarah Schott, Hona Moore, Tracy Young, missing-Kellie Meeks
7th Place – Red Hot Chili Steppers
(left to right) Tammy Caudle, Eliza Martin, Logan Wood, Pat Smith, Drew Leonard
8th Place – Step Up Your Game
(left to right) Linda Coffey, Juanita Burgess, Kathleen Kilmartin, Shaquana Calinda, Jeff Holoman